News
Smart Process
Gain crucial facility time and money savings with Actemium's Environment Interface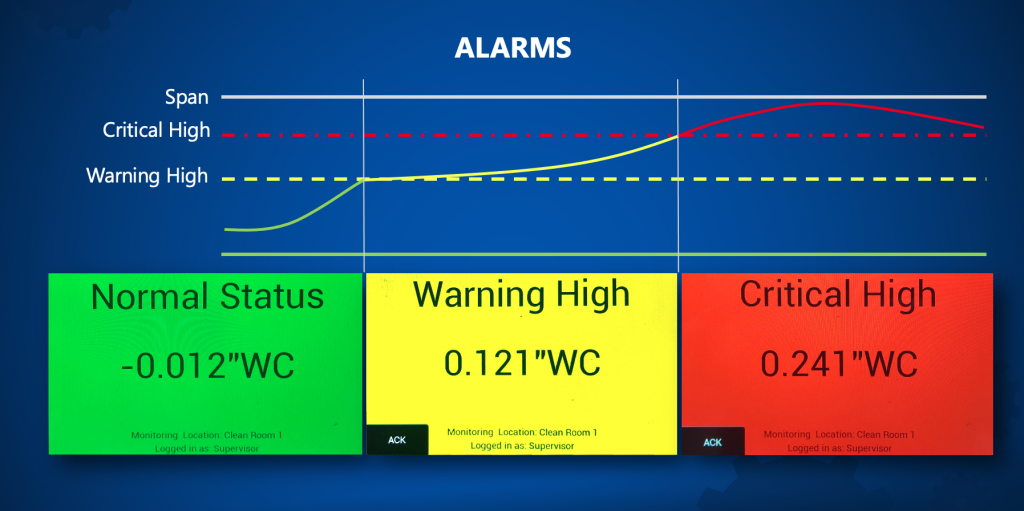 Environmental monitoring systems are a crucial pillar in many industries. Manufacturing conditions must be kept within specific standards to maintain product quality as well as to comply with government regulations. Organizations, especially in the Life Sciences and the Electronics industry, have strict product environmental conditions and access control requirements.  Electronic data is critical for these organizations to have proof of compliance.  Actemium's model 21P11 Environment Interface is an all-in-one product that has been developed through years of targeted feedback from our trusted industry partners.
WHAT IS AN ACTEMIUM 21P11 ENVIRONMENT INTERFACE?
Not all environmental monitoring units are the same. Actemium's 21P11 possesses the ability to monitor all aspects of a room by integrating it with new and/or existing systems and sensors. The Environment Interface provides point of entry information, local monitoring with warning and critical alarm annunciation, room access control features, maintenance and cleaning modes, and entry logbook features. It can operate independently for standalone applications or be connected to an existing or new environmental monitoring system with a wider network of devices via Ethernet, Serial, or WiFi communications. The on-board controller provides flexibility for logic execution within the unit itself and enables Actemium to customize the unit for your application.
The Environment Interface has several options for physical construction and mounting. A "flush to wall unit" allows it to be mounted in a wall as thin as 1.5". A surface mount unit comes in a stainless-steel enclosure for when flush mounting isn't an option. The faceplate construction has two options to accommodate a wide range of customers' cleaning chemicals. The Environment Interface can be equipped with a coated glass or plastic covered colour touch screen. The touchscreen interface is daylight readable and glove friendly.  The unit is designed to handle an operating temperature range of -20 to 50 ◦c, and with its NEMA 4X enclosure allows it to be mounted almost anywhere in a facility. Screen colours have been selected for intuitive interaction with the unit. A green background indicates all conditions are within normal parameters. An amber background indicates a warning condition exists and should be investigated. A red flashing background indicates that a critical alarm has been activated. Finally, a blue background indicates the room is in a cleaning or maintenance condition and alarming setpoints will automatically be set to a much broader range
to not cause nuisance alarms, if desired and according to customer-specified setpoints. All of these modes are completely customizable to the customer's needs.
The units can come equipped with up to a maximum of 1 digital differential pressure sensor input (embedded within the unit), 6 analogue inputs, 2 digital outputs, and 4 digital inputs. This ensures existing sensors, current or legacy, can seamlessly work with the Environment Interface and can be relayed to an environmental monitoring system to meet current data collection and integrity regulations.  Because of the IO flexibility, the Environment Interface, although designed primarily as a hub for room environmental monitoring, can also be used as a remote IO station to connect field devices back to a centralized monitoring system without needing to homerun field wiring for each individual sensor or transmitter.
HOW CAN ACTEMIUM'S ENVIRONMENT INTERFACE SAVE TIME AND MONEY?
Simplify Data Collection:
Integrating an Environment Interface into any facility can help ensure data integrity while simultaneously streamlining the data collection process saving time with reports and data for quality and compliance.
Because the Environment Interface has the inputs and outputs local to the room, there is no need to wire room sensors back to a central panel. All those signals can be brought back through the interface communication connection.
Reducing quality risks by using warning alarms to alert facilities and local users before critical condition occur and product and contracts are put at risk.
Internal DP Sensor Predictive Maintenance:
Reduce risk of onboard differential pressure (DP) sensor falling out of calibration between required calibration periods by the using the auto sensor check feature built into the Environment Interface as a standard option.
Reusing Existing Area Sensors:
Because the Environment Interface accepts traditional 4-20 mA signals and traditional 24 VDC digital inputs, the unit can use most of a facility's existing sensors. It does not depend on proprietary sensors.
HOW AN ENVIRONMENT INTERFACE FITS INTO A LARGER ENVIRONMENTAL MONITORING SYSTEM?
To adhere to regulations and support the quality of production, facilities must be able to quickly and clearly present relevant data. When an Environment Interface functions as part of a facility's larger environmental monitoring system, it will assist companies by supporting the creation of audit trails, personnel entry logs, parameter logs, cleaning logs, maintenance logs, and calibration records that will meet compliance requirements. Available in wired (serial and Ethernet) and Wi-Fi communication options, an Environment Interface can connect to existing Programmable Logic Controllers (PLCs) or directly to Supervisory Control and Data Acquisition (SCADA) systems.
LOGBOOK FEATURES
Actemium realized that a lot of paper-based logbooks were being used to document room cleaning, maintenance, logistics, and access. These logbooks were time consuming and cumbersome to maintain for compliance. Actemium is proud to share that a logbook software module has been developed and deployed within the 21P11 to streamline logbook usage and open opportunities for easier logbook review and maintenance by leveraging reporting tools and functionality from a centralized SCADA system.
As an example, for room cleaning, the touchscreen guides cleaning staff through an on-the-spot logging process to simplify data collection. Staff will login to the unit with a unique ID and password or use a personal RFID tag. The cleaning field form(s) will appear, and staff will be prompted to enter the applicable information required for the activity to be performed.  This could include items such as cleaning chemical information and the type of cleaning performed (floors only, floors and walls, etc…). The form data from the Environment Interface is collected by the environmental monitoring system for reporting purposes. Therefore, records which were once paper-based can be directly entered as electronic data and consumed for reporting purposes.
NEXT GENERATION OF ENVIRONMENTAL MONITORING
Actemium's 21P11 is the result of years of targeted feedback from our trusted industry partners. Innovation never ends, so we're committed to continuously improving our offerings and ensuring that our products meet and exceed evolving governmental regulations and requirements for manufacturing businesses.