Actemium's life sciences team is specialized in industrial technology for pharmaceutical and biotechnology manufacturing processes. We enable our clients to realize opportunities to improve their supply chain, drive production efficiency and operate more sustainably. Our top-quality automation solutions are tailored to their demanding needs. We understand the importance of documentation and following proper procedure. Our standards are built around GAMP and cGMP supported by a high level of expertise handling electronic records/electronic signature (ERES, 21 CFR part 11) to ensure that the systems meet all requirements.
Life Sciences and Pharmaceutical Services
Actemium offers a variety of automation services within the Life Sciences industry:
Process Control Design
Pharmaceutical Skid Controls
Building Automation and Controls and Integration
Serialization Controls and Integration
Industrial Robotic Systems (Process and Packaging)
Self-Navigating Autonomous Intelligent Vehicle (AIV)
Control System Upgrades & Conversions
Chart Recorder Digital Replacement
Data Infrastructure & Management
Actemium Products You May Find of Interest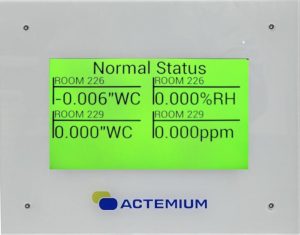 Environment Interface 21P11
A monitoring interface that provides regulation adherence and supports production quality.
Let's Improve Your Industrial Performance.