Actemium's 21P11 Environment Interface (EI) is the result of years of targeted feedback from our trusted industry partners who require continuous environment monitoring of their production areas to ensure they comply with company and government requirements. FDA 21 CFR Part 11 compliance was a high priority for design team.
Actemium's 21P11 possesses the ability to monitor all aspects of a room by integrating with new and/or existing systems and sensors. The Environment Interface (EI) provides point of entry information, local monitoring with warning and critical alarms, room access control features, maintenance, cleaning, and personnel access logbook features. It can operate independently for standalone applications or be connected to an existing or new environment monitoring system with a wider network of devices via Ethernet, Serial, or WiFi communications.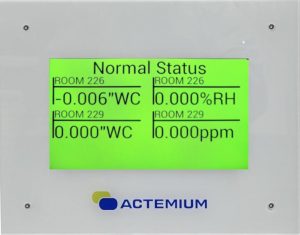 Key Features
Environment monitoring (inputs for new and existing instrumentation)
Engineered with Audit Trails in mind (parameter logs, personnel entry logs, cleaning logs, maintenance logs, and calibration records)
Room setpoints automatically changed based on the product being manufactured or activity being performed
Individual based security access (glove friendly touchscreen and/or RFID)
Door Access Control
Wired and wireless communication options to connect to your supervisory system
Build for a washdown environment
Note: Actemium's Environment Interface is designed to be part of a facility's ALCOA+ system when connected with a properly designed Supervisory Control and Data Acquisition system (SCADA).
Physical Installation
Wall surface mount or flush mount options
Faceplate construction options to accommodate different cleaning chemicals
Touchscreen interface is daylight readable and glove friendly
Operating temperature range of -20 to 50 ◦c
NEMA 4X enclosure allows it to be mounted almost anywhere in a facility
24VDC or 24VAC
Ethernet IP (wired or wireless)
Serial (RS485, Modbus RTU)
Note: If another communication protocol is required, please contact us directly.
Sensor Interfaces
The Environment Interface does not require proprietary sensors. Because the EI accepts traditional 4-20 mA signals and 24 VDC digital inputs it is easy to integrate the unit into new or older facilities with existing sensors.
The following lists the maximum number of inputs and output each EI can be supplied with.
1 differential pressure sensor input
6 analog inputs
4 digital inputs
2 digital outputs
High and low frequency RFID reader options
Local Alarming
It is very important for operators to know the condition of a regulated room before they enter. The EI's Screen colours have been selected for intuitive interaction.
Green background indicates all conditions are within normal parameters
Amber background indicates a warning condition exists and should be investigated
Red flashing background indicates that a critical alarm has been activated
Blue background indicates the room is in a cleaning or maintenance condition and alarming setpoints are automatically set to a much broader range to not cause nuisance alarms.
All of these modes are completely customizable to the customer's needs.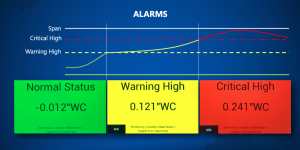 No More Paper!
Time consuming and cumbersome to maintain paper-based logbooks to document room cleaning, maintenance, logistics and access are a thing of the past. The EI incorporates these logbooks into its touchscreen interface. The logbook feature will guide people through the process of filling out logs, saving time as well as maintaining data for quality and compliance.
Because the EI has the inputs and outputs local to the room, there is no need to wire room sensors back to a central panel. All those signals can be brought back through the EI communication connection.
Fits with your existing Environment Monitoring System
To adhere to regulations and support the quality of production, facilities must be able to quickly and clearly present relevant data. When an EI functions as part of a facility's larger environment monitoring system, it will assist companies by supporting the creation of audit trails, personnel entry logs, parameter logs, cleaning logs, maintenance logs, and calibration records that will meet compliance requirements. Available in wired (serial and Ethernet) and Wi-Fi communication options, an EI can connect to existing Programmable Logic Controllers (PLCs) or directly to Supervisory Control and Data Acquisition (SCADA) systems.
Innovation never ends, so we're committed to continuously improving our offerings and ensuring that our products keep pace with evolving governmental regulations and requirements for manufacturing businesses. For more information, please contact us at 21P11@Actemium.com